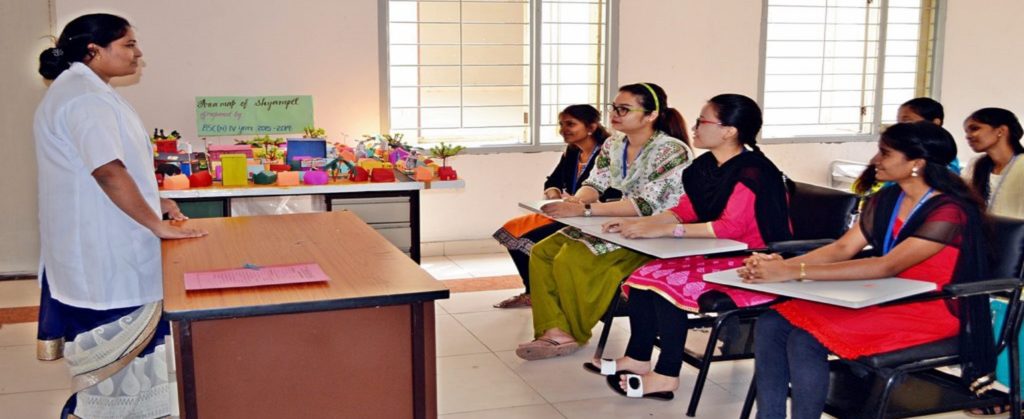 WELCOME TO ROHINI COLLEGE AND SCHOOL OF NURSING
ROHINI COLLEGE & SCHOOL OF NURSING was established in the Year 2010 & 1994, The college is affiliated to KALOJI NARAYANA RAO UNIVERSITY Warangal, DR. NTR UNIVERSITY Vijayawada and recognized by INDIA NURSING COUNCIL, New Delhi, Government of Telangana Nurses and Midwives Council (College INC F.NO. 18-02/4000-INC and School, F.NO. 18-426/2002-INC). Within a short span of the establishment, Rohini College & School of Nursing embarked upon its mission of preparing Nursing cadets to serve the needy nationally, internationally and all over the world.
By introducing the new learning process and with the help of special lectures given by experts on various topics of nursing and health, we educate our nursing students to challenge the nursing field as worthy professionals. At Rohini college & School of Nursing, students are provided comprehensive education, both theoretical and practical, designed to sharpen critical thinking skills, stimulate scientific inquiry, develop effective practice and cultivate qualities of compassion and caring, fully integrating theoretical learning with clinical experiences within a caring environment.PHILOSOPHYThe philosophy of the Colleges of Nursing is consistent with Dr. KNR University of Health Sciences. The college philosophy focuses on the nature of the person, environment, health, profession of nursing and the process of education. Faculty of College of Nursing believes that the "Person" is unique and continuously evolving being. Each person has the right to participate in making decisions, which affect health and accept or refuse health care. Health is viewed as a dynamic state arising from continuous changes from wellness to illness and from illness to wellness. Promotion, maintenance, and restoration of health is viewed as a complex phenomenon and involves the joint responsibility of individual and health care providers.
VISIONThe Rohini Nursing Institutes Endeavours for quality educational outcomes exemplified by graduates who will be recognized for Excellence, Leadership and Compassionate Evidence-Based Care.
MISSIONThe Rohini Nursing Institutes are to promote Health and Wellbeing through Excellence in Nursing Education, Practice, Research and Administration while fostering diversity and inclusion.

OBJECTIVE
The main objective of Rohini College & School of Nursing envisages excellence in nursing education. It believes in preparing nurses to deliver quality nursing care that results in the restoration of people's health. Wholesome development of students into productive citizens of the country as well as efficient professional nurses.

Essence of Rohini College of Nursing
Eco-friendly campus
Own spacious College & Hostel Buildings as per Indian Nursing Council Norms
Dedicated Nursing fraternity and Medical Professors for different specialty subjects.
Digital Library with latest books, National and International Journals
Personality Development & counseling facility.
Educational Trips & Observational visits.
Job placements in parent hospitals and nursing educational institutions
Loan Facility & Scholarship for eligible candidates
Cash awards for University toppers.
24 hours of security around the hostel & campus to safeguard the students
Active NSS Programmes are conducted