"Ragging: A Menace with Far-reaching Consequences"
Ragging, a deeply concerning issue, has been associated with tears, shame, terror, and even tragic fatalities. This institution defines ragging as any form of disorderly conduct, whether verbal or written, that involves treating fellow students rudely. This encompasses rowdy or undisciplined behaviour causing annoyance, psychological harm, or fear among freshers or other students. Additionally, any act that results in shame or embarrassment, adversely affecting the mental or physical well-being of a fresher or student, falls under the purview of ragging. Recognizing its grave implications, the College strictly forbids ragging within its premises. Any student discovered engaging in ragging faces rigorous disciplinary actions, which may extend to immediate expulsion from the Institute, alongside potential legal consequences.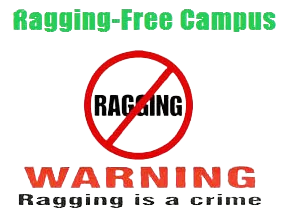 "The Noble Pursuit of Nursing and Maintaining Ethical Conduct"
The nursing profession, esteemed for its humane values, compassion, and consideration, imparts valuable lessons in self-discipline and adherence to rules. Aspiring nursing students are expected to uphold dignity and decorum, embodying the principles of a future nurse. To counter the menace of ragging and cultivate positive student relations at our college, the following guidelines have been established:
Guidelines for Students:
Absolute Prohibition of Ragging: Ragging, whether on or off campus, is strictly prohibited.
Familiarity with Regulations: All students must familiarize themselves with the institute's code of conduct, anti-ragging measures, and disciplinary guidelines.
Counselling Sessions: Freshers are required to attend counselling sessions arranged by the college staff.
Assigned Academic Counsellor: Each fresher is assigned an Academic Counsellor for personal and academic support.
Immediate Reporting: Any instance of ragging experienced or observed should be promptly reported to the relevant authority.
Reporting Channels: Incidents of ragging can be reported to the college's Anti-ragging committee.
Confidential Reporting: Students can choose to report anonymously, ensuring their privacy is maintained.
Mentorship Support: Seniors designated as 'Mentors' provide emotional assistance to freshers in adapting to the college environment.
Segregation of Freshers: Freshers are housed on a separate hostel floor, with no access granted to senior students.
Dining Hall Arrangements: Designated meal timings and dining areas for freshers prevent interactions with seniors during these periods.
Appealing to Authorities: If dissatisfied with the institutional response, victims of ragging can appeal to higher authorities or local law enforcement.
The Anti-ragging Squad:
Regular Vigilance: The squad conducts regular visits to potential ragging hotspots, both on and off-campus.
Surprise Inspections: Unannounced visits to hostels and identified ragging areas lead to the apprehension of culprits.
Complaint Handling: Verbal, telephonic, or written complaints are documented and addressed following university regulations.
Principal's Informed: All ragging-related events are communicated to the principal for appropriate action.
Teaching Staff Assistance: Faculty members are assigned to assist the Anti-ragging squad in maintaining vigilance.
For Assistance and Information contact any of the following members:
Sl No.
Name
Designation
Mobile No.
CHAIRPERSON
1
Mrs.Chilumula Chaitanya
7330976054
Members
2
Dr.G.Kranthi Rao
Secretary
9849058659
3
Mr.V.Keshava Rao
Advocate
9849091397
4
Mr.Raghava
C.I. of Police, Subedari
9491089127
5
Mr.K.Indra Sena Reddy
President, Rotary Club
9849161881
6
Mrs.T.Madhavi
Representive of Faculties
9491083128
7
Mrs.E.Bhavana
Representive of Faculties
8897444036
8
Mrs.Joseph Daisy Angela Daniel
Representive of Faculties
8801774601
9
Mrs.T.Sruthi
Representive of Faculties
9052044488
10
Ms.Koj Ami
Representive of Students (Senior)
9402036036
11
Ms.B.Madhurima
Representive of Students (Senior)
9542655992
12
Ms Soumya Sri
Representive of Students (Senior)
6303550247
13
Ms.Prima Daimari
Representive of Students (Senior)
8011423374
14
Ms.A.Bhavana
Representive of Students (Senior)
7799299311
15
Kindikonda Rama
Representive of Students (Fresher)
9704700791
16
Chikram Geetanjali
Representive of Students (Fresher)
8328267716
17
Dipshikha Nath
Representive of Students (Fresher)
7638065225
18
Mr.B.Sampath
Representive of Parents
9391104969
19
Mr.P.Kumara Swamy
Representive of Parents
9502264352
20
Mr.Atul Mochahari
Representive of Parents
9707113563
21
Mr.K.Anil Reddy
Non Teaching Staff
9848257360
22
A.Murali Krishna
Non Teaching Staff
9848707550
23
Mrs.Sandhya
Non Teaching Staff
9059245349
24
M Manjula
Warden
9177998551
Objectives and Functions:
The committee's primary objectives are to maintain a ragging-free environment, uphold organizational missions, and foster harmonious relationships.
Functions include documentation of committee members, ensuring a ragging-free environment, identification of ragging incidents, investigation, warnings, and, if necessary, punitive actions.
Incidents are reported to higher authorities for appropriate management.
In conclusion, this institution takes a resolute stance against ragging, emphasizing a secure and nurturing educational experience for all students.